La plateformisation des médias français et le ton du débat public
The authors seek to understand where and when YouTube comment sections are hit by brutal or aggressive debates and the factors that limit or foster this aggressive behaviour. To do so, they use a device at the crossroads of automated language processing and the political economy of media. The study is based on 2,209,206 comments, 1,184,859 of which are found in discussion threads, from the comment sections of 46,090 videos. The videos are taken from the YouTube channels of 57 different French media channels representing a variety of positions and institutional categories.
Los autores del artículo procuran comprender, por una parte, dónde y cuándo el espacio de los comentarios en las plataformas YouTube llega a ser afectado por debates violentos o agresivos y por otra parte, qué factores limitan o favorecen esta agresividad. Para lograr el objetivo, los autores del artículo emplean un dispositivo que se posiciona al límite del tratamiento automatizado del lenguaje y la economía política de los medios de comunicación. Dichos autores basan su estudio en 2 209 206 comentarios, entre los cuales, 1 184 859 se encuentran en los hilos de discusión, repartidos en los espacios comentarios de 46 090 vídeos. Estos últimos provienen de un panel de 57 canales de los medios de comunicación francesa en las categorías institucionales y posicionamientos diferentes.
Les auteurs cherchent à comprendre, d'une part, où et quand l'espace des commentaires sur la plateforme YouTube en vient à être touché par les débats brutaux ou agressifs et, d'autre part, quels facteurs limitent ou favorisent cette agressivité. Pour atteindre cet objectif, ils emploient un dispositif se positionnant à la lisière du traitement automatisé du langage et de l'économie politique des médias. Ils basent leur étude sur 2 209 206 commentaires, dont 1 184 859 se trouvent dans les fils de discussion, répartis dans les espaces de commentaires de 46 090 vidéos. Ces dernières sont issues d'un panel de 57 chaînes de médias français aux catégories institutionnelles et aux positionnements différents.
Fichier principal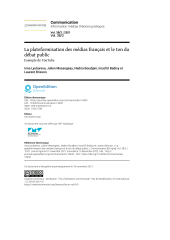 communication-14433.pdf (992.59 Ko)
Télécharger le fichier
Origin : Publisher files allowed on an open archive
Licence : CC BY NC ND - Attribution - NonCommercial - NoDerivatives