Qualité et différenciation des biens informationnels. Une étude exploratoire sur l'information d'actualité
Digital technology, through service innovations and the widespread use of social media, has influenced the quality of information goods. This is the case of cultural goods in general and journalistic information in particular. Yet, there is no consensual definition of quality and its measurement. In the literature, this notion often refers to different concepts and social expectations. This article proposes to use the economic model of vertical and horizontal differentiation to analyze the quality of journalistic information. Our study relies on the linguistic methods of discourse analysis to characterize the editorial choices of news producers. By comparing 93,000 press articles on 31 events between 2015 and 2019 and published by 55 representative news producers in France, we provide a mapping of the French media according to their choices of differentiation, and we assess, on this basis, the quality of journalistic information available on the market.
Le numérique, que ce soit à travers les innovations de service ou l'usage massif des médias sociaux, influence la qualité des biens informationnels. C'est le cas notamment des biens culturels et de l'information journalistique. Or, la notion et la mesure de la qualité s'avèrent non consensuelles et renvoient à des conceptions et des attentes sociales très différentes. Dans cet article, nous proposons d'analyser la qualité de l'information journalistique à partir d'un modèle de différenciation verticale et horizontale. Nous nous basons sur les méthodes d'analyse de discours en linguistique pour caractériser les choix éditoriaux des producteurs d'informations. En comparant 93K articles de presse portant sur 31 évènements entre 2015 et 2019 et publiés par 55 médias de presse représentatifs en France, nous proposons une cartographie des médias français selon leurs choix de différenciation et évaluons, sur cette base, la qualité de l'information journalistique offerte aux consommateurs.
Fichier principal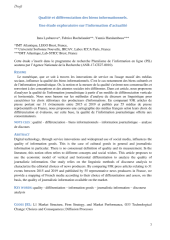 Lyubareva, Rochelandet, Haralambous_Eng_JEL_Draft.pdf (1.92 Mo)
Télécharger le fichier
Origin : Files produced by the author(s)